Ask a voyageur a question
Here's a blog to answer your questions, like what was life like during the 1800s in French Canada? Like who could or couldn't be a voyageur? How big the canoes were? What trade goods they carried? What different furs were worth? What they used for medicine? I'll answer these and more in the "A Voyageur's Life" blog. Click on the button below to ask your question or go to the "Contact" section of this site — I'll find the answers.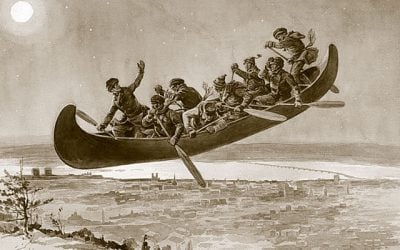 What's better on a cold night than to get cozy and hear an old story?. Here is a popular French-Canadian story — the tale of the Flying Canoe. (also known as La Chasse Galerie, The Bewitched Canoe and The Wild Hunt.) It's New Year's Eve at a far-flung trading post. A...
read more