My novels focus on the voyageurs as they paddled from Canada. But what were French-Canadian villages like? At Prairie du Chien, Wisconsin, we spent three days experiencing what one may have felt like. There were hundreds of take-aways. To give you a flavor, Jean Day created this short YouTube video which capsulizes our fun discoveries.
What's the big deal about Prairie du Chien?
Long before French-Canadian traders moved in, this confluence of the Mississippi and Wisconsin rivers was a gathering place for many tribes, including the Dakota, Ho-Chunk (once called Winnebago), Menomonie, Mesquakie (once called Fox ) and Sauk. It was the second largest community in the territory, after Green Bay. Because of those factors,  Lt. Zebulon Pike Jr. chose a location at Prairie du Chien for a possible U.S. fort. 
Town lots and farm lots:
Everyone needed river access so all 150-foot town lots originally fronted the river. Farm lots extended nearly a mile, all the way to where the bluffs rose. When Fort Crawford was built (that 4-sided icon near the right), the military demanded several lots, so people who lived on those lots had to receive new spaces. To do that, a court convened Oct. 14, 1820, to take testimony as to who lived where in Prairie du Chien (written in "Land Claims of Michigan" (because Wisconsin wasn't yet a state). 

Pièce sur pièce architecture:
Earliest French-Canadian houses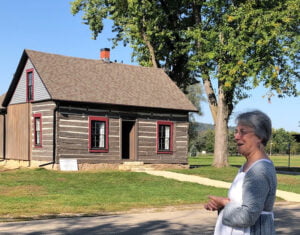 , like the St. Germaine dit Gauthier-Coorough house from 1840, were built using an upright end log with slots carved into it. Horizontal logs were fit into those verticals and chinked. (Dovetailed corners came later.) Mary Elise Antoine, our amazing guide, said that locals wanted the old log construction style to be visible and didn't want the finishing boards added on this historic home. We returned to this house for music and dance at the end of our experience. The St. Germaine dit Gauthier-Coorough cabin, now located on St. Feriole Island, was recently restored by the Prairie du Chien Historical Society.

Marking the logs:

Because this area was prairie, the pine logs for homes came from elsewhere. Workmen cutting the logs would plan their order and mark them — I, II, III, IV, V, VI — so the men who did the actual construction could fit them properly. In the picture on the left below, look for the III, IIII and V markings, starting at the bottom. The V appears upside down, which was the easiest way for the woodcutters.

Still on its original site:
This house (on the right), built by voyageur Francois Vertefeuille in 1810, has been designated as the oldest structure in Wisconsin on its original site.  The current owner has built a workshop nearby using the old technique of pièce sur pièce architecture, and has finished the loft as well in the original manner, using wide planks (and narrow slats to cover the cracks and chinking) which would protect the logs. 

The old cemetery:

Rarely was there a priest in Prairie du Chien to officiate when people married, had children and died. Loved ones here were buried in the old cemetery with simple stones or wood to identify graves, but those markers didn't last long. The sign lists some who might be buried here; however, at that time only two official counties existed in the territory and each encompassed a vast area. When the Catholic Church organized its own consecrated cemetery, this one was abandoned. At the old cemetery, our group researched the Rolette family, Cardinal and Wemet families, Josette, Urtubise and Victoire Antaya, Pierre Lessard, Denis Courtois and Marie Blobdeau (possibly Blondeau), Basil Girard and Benjamin Cadotte — and shared what we found.

L'assomption sash:

This sash uses a hand-weaving technique that doesn't require a loom. Notice the incredibly fine wool strands. After I took a Zoom class on sash-making, I've been looking more closely at them. And they're not always red!

St. Gabriel Church:
The early settlers met for prayers in a log cabin on the banks of St. Feriole Slough. St. Gabriel's is the oldest operating parish in Wisconsin, dating to the 1820s; this stone church to 1836. Father Galtier, early priest and the founder of St. Paul, is buried in front of the church.
Lively music!
As a finale, Jane Peck, dressed in Metís garb, told stories, demonstrated a Metís dance, played the spoons and taught us to sing the chorus of C'est l'aviron
(The title is about voyageurs' oars, or paddles, but the song deviates into love.) Jane said that "blonde" was French slang for girls or females. My dictionary doesn't indicate that. So what would the first nasty rapids on the Ottawa, called Chute a Blondeau, mean? Perhaps I misheard her.
Danielle Enblom, fiddler, wore clothing of a French-Canadian young woman. Both she and Jane included the voyageur sashes as part of their costumes. Danielle shared her own ancestor stories, and how she learned some of the songs she played.

After we enjoyed Jane's and Danielle's performance, we feasted at The Barn on festive French-Canadian fare — tourtiere (a meat pie), yellow pea soup, crepes and other delicious foods.
Check out more info on many of the historic sites we toured or learned about.
Final Thoughts