I need your ideas for Book 4. (Help me, François and Françoise — you're my only hope!)
In Book 3 (in progress): Instead of paddling with Antoine's brigade, Andre fears he must stay at home and sees his life and career disappearing. But he lucks out with a delivery job, leading a solo canoe destined for Fort St. Joseph (a British fort in Lake Huron). Though he expects it to be easy, it becomes the trip from hell. He's en route late June through early September, 1805.
So Book 4 could begin as early as autumn 1805. Here are some events and people from the early 1800s that I'm considering:
The Corps of Discovery
Meriwether Lewis and William Clark had been exploring the brand-new Louisiana Purchase and western routes across the continent around. After wintering in Oregon, they were on their way home in 1806. I've already written about their French-Canadian connections — their oarsmen, translator Toussaint Charbonneau and guide Sakakawea. 
Possible inclusion in Book 4:
Andre could get to the Mandan villages by August 1806, when L&C dash through on their last leg home. But what would be Andre's reason for being there?
? A trading foray? Andre's no longer employed by the North West Company, so he's independent. But St. Louis has new opportunities.

? Are his English-French skills of value, as were Sakakawea's and Charbonneau's? In Book 1, Andre found his brother Denis with the Dakota though he wasn't in the village long enough to absorb Dakota languages. He could revisit relationships.

? What do the British in Montreal know about this upstart US suddenly exploring everywhere? Do they need to know about L&C and/or Pike from Andre? Would that make him a spy or collaborator?

? Would Andre reveal (by intention or unwittingly) to the Mandans and Hidatsas what he has seen of the brash young Lt. Zebulon Pike? Lotsa possibilities to audition. Let me know… 
Lt. Zebulon Pike Jr.

In under a year, Zeb Pike Jr. started and ended his first expedition to identify the source of the Mississippi and several other tasks — he left St. Louis in August 1805, returning on April 20, 1806, believing he'd accomplished them all, but the reverse was actually true.
His speedy timing seems odd to me, like a race. Did Pike feel overshadowed by the older L&C? Was he jealous of their better-funded expedition? Or eager to prove his success before they returned? In case they didn't return, was he positioning himself to check on them?
And here's more, though it won't affect my book:
Pike was a protege of Spanish double-agent Gen. James Wilkinson.

His second expedition (1806-07) took him to the Southwest where he was captured — possibly on purpose — interrogated and released. Some of his soldiers languished in Mexican prisons for years.

In 1810 he turned his adventures into a hugely popular book, "

The expeditions of Zebulon Montgomery Pike …"

translated into French, German and Dutch. (I could be the jealous one here.)

Pike led his unit in the War of 1812, but died in the battle of York, at age 34 the following year.
Possible inclusion in Book 4:
Pike is at the right time and place for my purposes — he was at the confluence of the Minnesota and Mississippi Rivers Sept. 21, 1805 (when Book 3 has ended). But I just don't like him much. Sill, he:

wintered around Little Falls, not too far from Andre's former trading posts.

needed directions and guides from the Sandy Lake fur post to the Leech Lake post and others.

believed he'd ended inter-tribal warfare, cemented the Dakota and Ojibwe allegiance to the US and purchased land for Fort Snelling — which the Dakota had not planned on selling. Plus they never got paid the price he promised them.


seemed obtuse and arrogant, insulting his hosts, unaware of his lack of skills.
These quirks are the earmarks of a worthy villain. But he'll have to interact with Andre. Or is he just a jerk and I can skip him?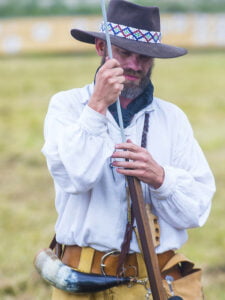 In Book 3, the British are aware that fur-harvesting in the U.S. is illegal and will soon be taxed. They'll have to stop trading for beaver pelts from these territories.
For Book 4, Pike could need a lot of help to overwinter. Andre might observe or assist or sabotage …

Reynard (an Ojibwe from upper Wisconsin introduced in Book 3) might need to travel to Mille Lacs for a big council meeting to meet with Pike or to do damage control after he'd left. Andre and Reynard could reconnect, especially if they need and/or can help each other.

In real life, a fur trader escorted Pike and his men to the next trading post. Could that escort include Andre in Book 4? How would that affect Andre?

Your ideas??
Final Thoughts