Wondering what books to offer your youngsters to read over the cold winter? Here are a batch I've appreciated for their thorough information and enjoyed for their story.Just in time for someone's Christmas stocking.

In alpha order by book title — so my particular contributions to the field appear far down in the list.
My starting point was the bibliographies for Waters Like the Sky and Treacherous Waters in the Resources section of my website. By the way, this list is also available in PDF form — just ask me.

Birchbark Brigade: A Fur Trade History by Cris Peterson. Calkins Creek, Honesdale, Pennsylvania, 2009.
Information about the era through diaries of explorers, archival prints and maps to provide a core history of the fur trade. Black and white photographs, bibliography and index.. 136 pages. Ages 12-15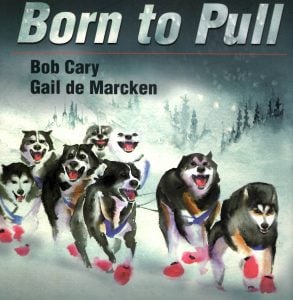 Born to Pull by Bob Cary, illustrated by Gail de Marcken. Pfeifer-Hamilton,
Focuses on sled dogs and life on the trail — everything about the sport of dog sled racing. The true stories and information are brought to life by stunning watercolors. 96 pages. Ages 6-12. (Included this book in a blog post in 2019, between the dates of the Beargrease and Iditarod races.)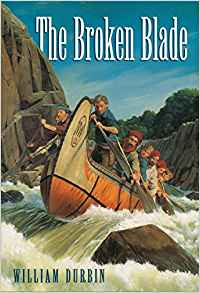 The Broken Blade by William Durbin. Bantam Doubleday Dell Books for Young Readers, New York, 1997.
A fictional boy enlists as a voyageur so the family will have enough money to survive. But will he survive the grueling trip and cruel teasing? 164 pages. Ages 10-14.
Chi-mewinzha: Ojibwe Stories from Leech Lake by Dorothy Whipple, edited by Wendy Makoons Geniusz and Brendan Fairbanks, illustrated by Annmarie Geniusz, University of Minnesota Press, Minneapolis, 2015.
Bilingual collection of lore and tales, told by an Ojibwe elder of ricing, falling through the ice, snaring a rabbit and being saved by a bear. In addition to the transcriptions, an extensive glossary includes grammatical codes to identify various adverbs, pronouns and verbs. Line drawings. 128 pages. Ages 7-14.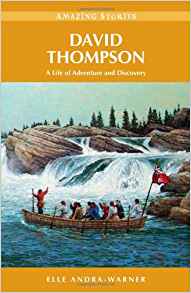 David Thompson: A Life of Adventure and Discovery by Elle Andra-Warner. Heritage House Publishing, Toronto, Ontario, Canada, 2010.
Biography details David Thompson's life from his apprenticeship with the Hudson's Bay Company, and later for the North West Company. He became a surveyor, map maker, naturalist and fur trader, making grueling voyages in the North American wilderness. Photographs, bibliography and index. 144 pages. Ages 10-14.
Goodbird, the Indian: His Story by Edward Goodbird, as told to Gilbert L. Wilson. Minnesota Historical Society Press, St. Paul, Minnesota, 1985.
Depicts Hidatsa Indian life in the early reservation years in western North Dakota. Goodbird describes traditional skills, religious beliefs and history during a historic era of tumultuous change and adaptation. Black and white drawings. 82 pages. Ages 12-15.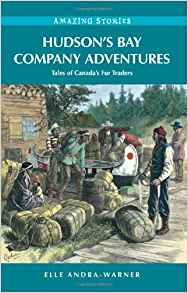 Hudson's Bay Company Adventures: Tales of Canada's Great Fur Traders by Elle Andra-Warner. Heritage House Publishing, Toronto, Ontario, Canada, 2009.
True story of the early history of Hudson's Bay Company—fur trade wars, wilderness journeys, hardships and dangers. One remarkable voyageur was a woman disguised as a man. Bibliography and index. 120 pages. Ages 10-14.
The Illustrated Voyageur, written and illustrated by Howard Sivertson. Lake Superior Port Cities, Inc., Duluth, Minnesota, 1994.
Paintings and companion stories depicting the fur trade in the late 1700s as voyageurs paddled from all over Canada to gather for the rendezvous. Each pair shows life en route, land forms, Indian hunting and trading activities. Watercolor illustrations. 72 pages. Ages 5-adult.
Jack: A Story of a Beaver by Shirley Woods, illustrated by Celia Godkin, Fitzhenry and Whiteside, Markham, Ontario, Canada, 2003.
Fictional account of a beaver's life with fact to give readers the sense of the beauties and dangers of the animal world. Pen and ink drawings. 96 pages. Ages 9-12.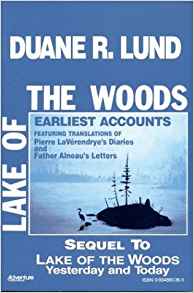 Lake of the Woods: Earliest Accounts by Duane R. Lund, Adventure Publications, Cambridge, Minnesota, 1984.
From the journals of Vérendrye, Father Alneau and others, among the first whites to explore the area. Historic maps and photographs. 108 Pages. Ages 12-adult.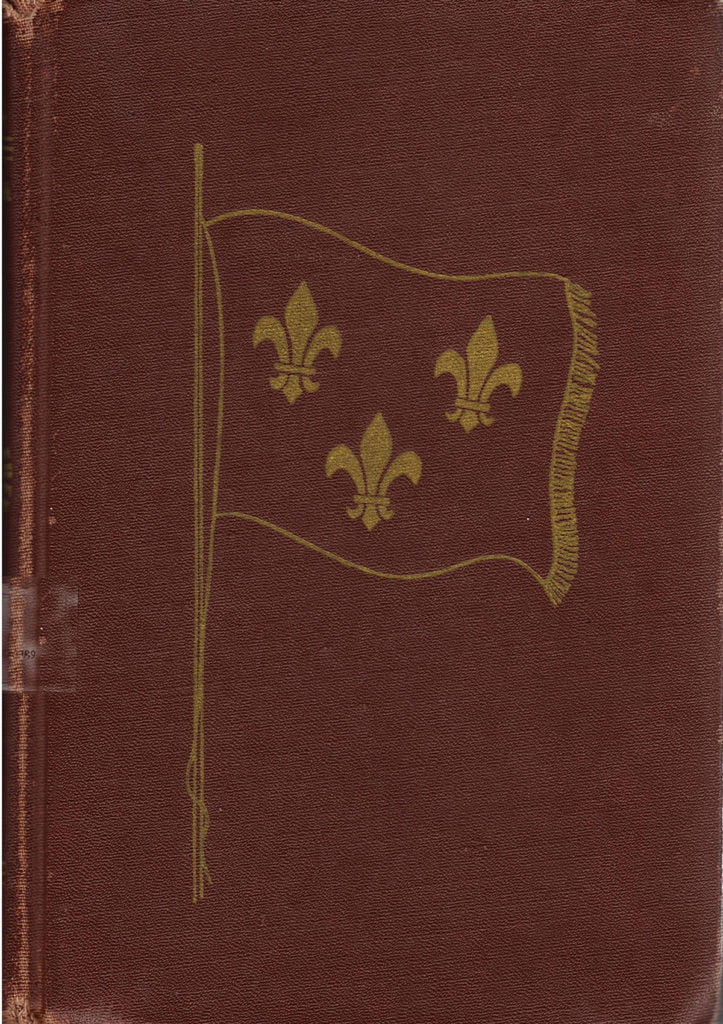 The Last Fort by Elizabeth Coatsworth, illustrated by Edward Shenton. John C. Winston Co., Philadelphia, Pennsylvania, 1952 .
French Canada in 1762 after the British had won the French & Indian War. A fictional boy is sent with voyageurs by his embittered father to Fort Chartres, a French settlement in southern Illinois, so they would not have to live under the thumb of the British. Junior Literary Guild. Pen and ink drawings. 250 pages. Ages 12-adult.
The Littlest Voyageur by Margi Preus, illustrated by Cheryl Pilgrim. Holiday House, New York, March 2020.
Fictional squirrel stows away on a brigade, eager to share in the excitement—until he discovers what the trade goods are exchanged for. He finds unique humorous ways to assist the voyageur crew. Appendix has essays on squirrels, voyageurs, a recipe and French glossary. 106 pages. Ages 7-10. (A full review will be posted this spring.)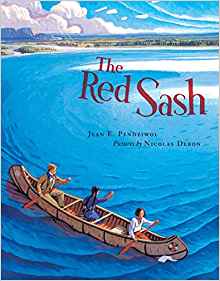 The Red Sash by Jean E. Pendziwol, illustrated by Nicolas Dobon. House of Anansi Press, a Groundwood book, Toronto, Ontario, Canada, 2005.
Fictional Metis family lives near Fort William rendezvous site; their father is a guide following the voyageur highways to Rainy Lake, the Red River and beyond. The son observes life at Fort William and finds a way to assist a bourgeois' canoe in trouble, earning a red sash. 32 pages. Ages 6-8. (Blogged about the importance of sashes and then reviewed this book in a separate post.)

The Sign of the Beaver by Elizabeth George Speare. Bantam Doubleday Dell Books for Young Readers, New York, 1983.
After a fictional settler has built a cabin in Maine, he leaves his 12-year-old son to bring the rest of the family. The son must survive on his own, but is rescued by an Indian chief and his grandson. The boys learn from each other. 140 pages. Ages 10-14.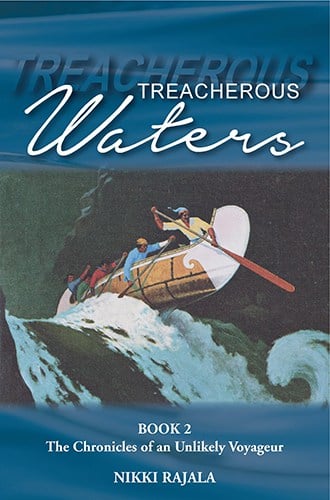 Treacherous Waters (Book 2 in The Chronicles of an Unlikely Voyageur series) by Nikki Rajala. Bill Vossler Books, St. Cloud, Minnesota, 2019.
Saga continues as Andre returns to the interior as a middleman, but accepts responsibility that is thrust upon him, coming of age as he makes difficult decisions. 260 pages. Ages 9-adult. (Fabulous book, if I do say so myself, since I'm the writer.)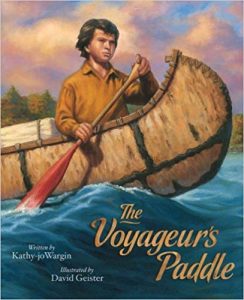 The Voyageur's Paddle by Kathy-Jo Wargin, illustrated by David Geister. Sleeping Bear Press, Chelsea, Michigan, 2007.
Fictional Metis boy sees his father, a voyageur at a trading post in the lonely north woods, and hopes for his own paddle. The father is often gone on trading expeditions in winter and summer. But this autumn the weather has turned stormy and his father has not yet returned. 32 pages. Ages 6-8.
Waters Like the Sky (Book 1 in The Chronicles of an Unlikely Voyageur) by Agnes Peloquin Rajala and Nikki Rajala. North Star Press of St. Cloud, Minnesota, 2014.
Fictional Andre paddles with experienced brigade and winters in order to find his long-lost brother. But along the way he discovers an enemy bent on his destruction — and his own talents he didn't realize he had. 120 pages. Ages 9-adult.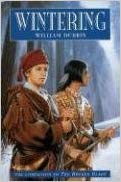 Wintering by William Durbin. Bantam Doubleday Dell Books for Young Readers, New York, 1997.
Fictional saga of a too-young voyageur continues as Pierre's brigade paddles to northern boundary lakes, building shelters, preparing food, trading pelts and surviving the bitter winter. 152 Pages. Ages 10-14.
With Pipe, Paddle and Song: a Story Of the French-Canadian Voyageurs by Elizabeth Yates. Bethlehem Books, Ignatius Press, Bathgate, North Dakota, 1998.
Fictional French-Indian boy whose singing ability lands him a spot in a voyageur brigade in 1750 when his father returns to France. After his canoe tips in a rapids, he's left for dead, nursed to life by an Ojibwe elder and her granddaughter—and a dream catcher. French and English words and music for 13 songs are included. Ages 14-adult.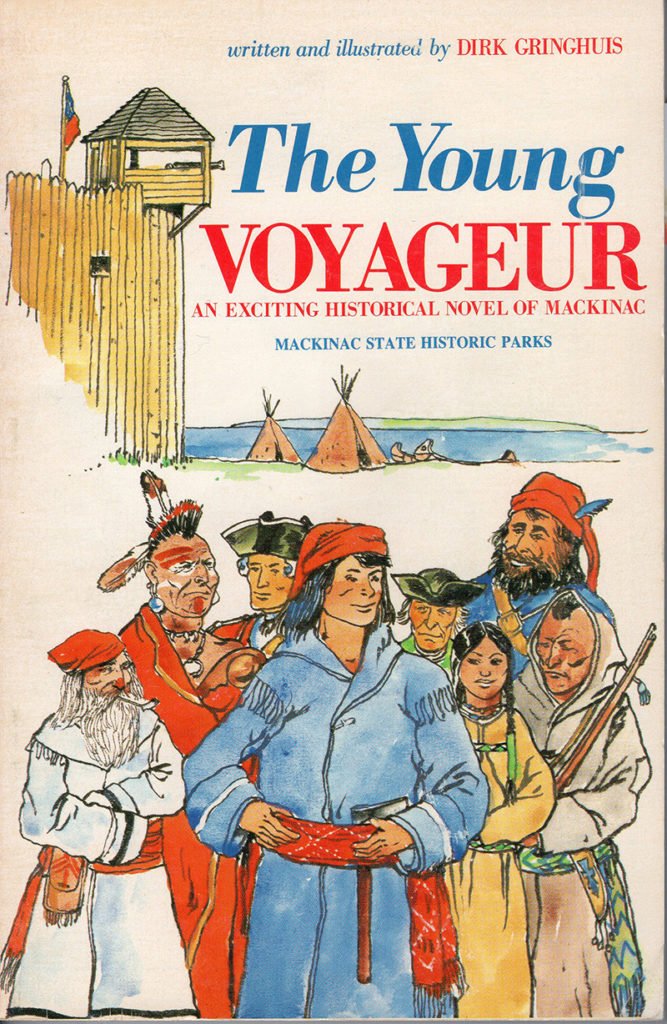 The Young Voyageur, written and illustrated by Dirk Gringhuis. Mackinac State History Park, Lansing, Michigan, 1955.
Fictional Irish boy near Fort Detroit runs away from his family farm to become a French voyageur in 1762. and is captured when Chief Pontiac and Indians take over at Fort Mackinac. He's adopted by Ojibwe, learning two languages for the fur trade. Line drawings. 204 pages. Ages 10-14.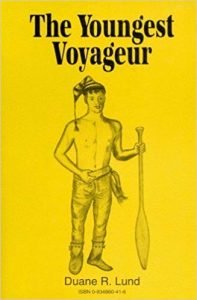 The Youngest Voyageur, written and illustrated by Duane R. Lund. Adventure Publications, Cambridge, Minnesota, 1985.
Fictional great grandson of Pierre LaVerendrye winters in 1794 with the Ojibwe where his forebearers traded, and discovers a brother among them. He lives the perilous lives of voyageurs. Black and white drawings. 96 pages. Ages 10-14.
Final Thoughts:
You can't go wrong with any of these, though some may be harder to find. Amazon can probably assist you.
Invite me to present at your group.
Purchase multiple copies of either Waters Like the Sky or Treacherous Waters for your local school library. Ask me about a discount.
Got a burning voyageur question? I'll answer in a blog post, backed up by research.