Were girls ever voyageurs? Did girls go on the fur brigades?

Amazingly, yes. If you figure in all the Native American women, there are countless thousands whose assistance was invaluable. If you're talking European immigrants or Caucasians, a bare handful. To paddle in the fur brigades required immense upper body strength
, so it was a rare woman who "manned" a voyageur canoe.
But Indian women were an integral element in the fur trade in other ways:
Some manufactured birch bark canoes — both the massive Montreal canoes and the smaller North canoes more commonly used.
Still others occasionally guided expeditions, interpreted or acted as peace negotiators.
Many made pemmican (dried powdered bison meat with dried berries).
But only a few women of European descent chose an adventurous role. They had surprising pluck and determination.
Marie-Anne (Gaboury) Lagimodière is considered the first white woman resident in the west.
In 1806, Gaboury, age 25, married Jean-Baptiste Lagimodière, who worked in the fur trade for Hudson's Bay Company in Rupert's Land, (what western Canada was called then). She did not want a part-year relationship typical of voyageur families, so she traveled with her new husband from Montreal to where the Red and Assiniboine Rivers meet (near where Winnipeg is now). This was shockingly different from any other French-Canadian bride.
They wintered with a group of Métis and her first child was born January 6, 1807. The following spring, the family moved to Saskatchewan, and remained there until 1811, living a semi-nomadic lifestyle among other French-Canadian trappers and their native wives. Marie-Anne accompanied her husband on trapping and buffalo hunting expeditions. Her second child was born on open prairie — shortly after her horse bolted towards a herd of buffalo. Another time she shot a large bear that had attacked one of their companions.
Marie-Anne was the grandmother of Louis Riel. Because many Métis trace their ancestry through her, she is known as the "Grandmother of the Red River."
Sources:
Dictionary of Canadian Biography:
http://www.biographi.ca/en/bio/gaboury_marie_anne_10E.html
Wikipedia: https://en.wikipedia.org/wiki/Marie-Anne_Gaboury
Isabel Gunn, age 26, became a woman voyageur — an actual worker bee.
Originally from the Orkney Islands, off northern Scotland, Isabel arrived at Moose Factory (the southernmost post in the Hudson Bay) in August 1806. But she was wearing men's clothing and called John Fubbister. It is possible she hoped to join a sweetheart — or her brother George who was working for Hudson's Bay Company somewhere in Rupert's Land. (That information has never been clear.)
Having signed a 3-year contract as an HBC laborer (at the wage of £8 per year), she went to Fort Albany and was assigned with a brigade to bring trade goods and supplies to an inland post, a grueling 19-day journey navigating cargo through rapids, unloading it and returning. She spent the winter at an even more distant post undetected as a woman — but that secret was eventually discovered by the man who shared her hut, John Scarth.
Voyageurs were busy during the springtime — they needed to m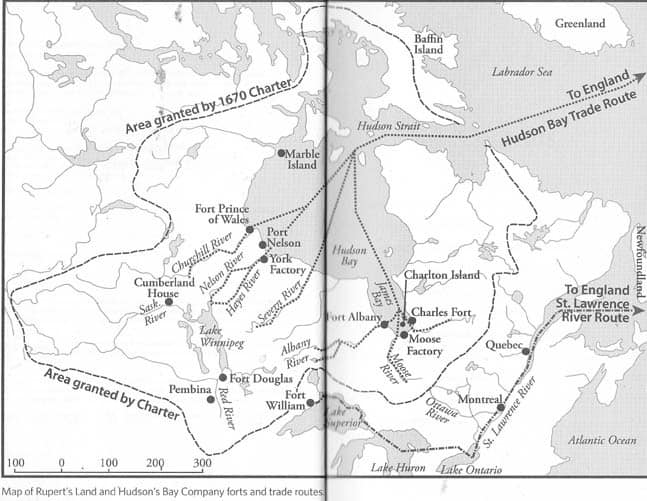 ove their cargo of beaver pelts back to Hudson Bay and Isabel and John paddled in those brigades. The second brigade took her to Pembina (south of where Winnipeg now is) — a trek of about 1,800 miles. When she arrived, she realized she was pregnant, with Scarth's child.
During a frigid December, she and other HBC workers trekked across the Pembina River to enjoy a Christmas festivity with the rival North West Company post. Afterwards Isabel begged to stay the night instead of returning. She gave birth that evening, Dec. 29, 1807.
Isabel then became a cook for her crew. In the early summer of 1808, she returned to Fort Albany, where she was given the task of a washerwoman, about the only choice for a woman. She (also now called Mary Fubbister) stayed another year in Fort Albany with her son, completi
ng her HBC service on Sept. 14, 1809. Six days later, they returned to Scotland by ship, against her wishes. There, she lived in poverty, working as a stocking and mitten maker until her death in 1861.
This story and map came from "Hudson's Bay Company Adventures: Tales of Canada's Fur Traders" by Elle Andra-Warner.
More info is available
on Wikipedia: https://en.wikipedia.org/wiki/Isobel_Gunn
and at Northwest Journal: http://northwestjournal.ca/XII2.htm
The Grey Nuns were first group of French-Canadian women to remain in the great interior
.
In 1844, after an arduous journey of 58 days in a birch bark canoe, Sister Marie-Louise Valade, age 36, and three other nuns arrived in St. Boniface (near Winnipeg, Manitoba, Canada). Sister Valade was given charge of the community.
Of the journey, one of them wrote: "We nearly always had bad weather. We have hardly slept since we left. Serpents and snakes camp with us. The portages are long and tiring. We have to climb steep slopes, make our way through bushes, walk through ravines and dead trees. We cannot go back."
Sister Marie Marguerite Eulalie Lagrave, the heftiest one, broke her foot on the way and the voyageurs threatened to leave her behind. (MHS)
They started classes 20 days later, and began visiting the poor and sick. By Dec. 31, 1847, they had a three-story oak house built (which still stands) to care for orphans, the aged and the sick.
And they took care of themselves:
"The hard-working Mother Valade realized that in mission country self-sufficiency was necessary. She cultivated the land, thus improving the daily diet of dried meat; she manufactured material for clothes and bought a carding machine, which she had adapted to Louis Riel's 'water power.' She even attempted to extract sugar from local beetroot and maples." (DCB)
In 1849 Mother Valade trekked back to Montreal (1,800 miles, 150 portages) for reinforcements When she returned (1,800 more miles, 150 more portages) with three novices and one nun, the order was able to open a school. The second time she returned to Montreal, in 1858, she traveled with Louis Riel by oxcart and train to St. Paul (28 days). They continued to respond compassionately to the great needs for education and health care.
Sources:
Dictionary of Canadian Biography: http://www.biographi.ca/en/bio/valade_marie_louise_9E.html
Manitoba Historical Society: http://www.mhs.mb.ca/docs/mb_history/11/greynuns.shtml
The Grey Nuns of Montreal: http://www.sgm.qc.ca/en/not-on-nav/the-grey-nuns-in-america/winnipeg/
Final Thoughts
I'm inspired by these these women's willingness to step out of an ordinary life. Thanks to Ava, 9; Mackenzie, 12; Rissy, 13; and Olivia, 13, whose questions at presentations inspired me to find out more about women's roles.
And a shout-out to Fran Hill-Rowan, who told me about a Grey Nun in her family history. Because of that, I wanted to know more about this group of early feminists.
More ways to connect:
Read another unlikely voyageur's story — buy a paperback of "Treacherous Waters" through PayPal. Or the ebook.
Book me as a speaker.
Help me out with research—how might Andre deal with women or girls in his voyages?
Ask your library or local bookstore to buy copies.
Be a Voyageur for an Hour—come to a presentation: Next one: "Time Travel" at 11:30 am Thursday, May 23, Friendship Club at Bethlehem Lutheran Church, 4310 Co. Rd 137, St. Cloud, 56301 (320-251-8356). It includes social time, an optional meal, and my presentation at 12:30 pm.