It's in my blood—I'm descended from voyageurs. Mom found listings of a dozen engagés, or canoemen, through genealogy research into her French-Canadian roots.
My grandfather, a younger son of a younger son of a voyageur, told of his connection:
His great grandfather Prisque Peloquin, was a voyageur, who wintered at fur posts across Minnesota territory for 16 years before returning to French-Canada. Because all his years of wages were paid him at the end, he was suddenly "rich" with cash money. So he bought a farm, married, and raised a large family.
One of the younger sons (also named Prisque), would not receive family farmland, so his father, the old voyageur, offered him money to purchase farmland and urged him to consider settling in the new territory.
The son (Prisque 2) canoed the rivers and lakes and then returned home to consult with his father. From the descriptions, his father recognized Rainy Lake, Leech Lake, the Bowstring River and other places in northern Minnesota.
When the son told of seeing the tumultuous St. Anthony Falls and the area near St. Paul, where the Mississippi and Minnesota Rivers meet, Prisque the elder said, "I know that place. There are caves along the river. During Indian trouble, some friendly Indians hid me and my companion in a cave, and a woman from the tribe brought us food in the dead of night. After three days we were able to escape."
My second cousin Joelle heard the stories a little differently — her grandfather was older than mine and maybe heard the stories more often.

Then, as a teen I was lucky enough to go on two early Girl Scout canoe expeditions in Minnesota's Boundary Waters and into the Quetico of Ontario. My first shock was loading the canoe — I had to get my new boots wet, but learned that loading was done standing in the waters. The next surprise was kneeling while paddling, instead of sitting. We crossed beaver dams, paddled in the rain and portaged muddy heavily rooted trails. We saw moose and bear — and Louisa Falls. A few evenings we shared campfires with Boy Scout groups. By the end of the first trip, I was proud to be able to flip the canoe and portage it myself (the first portage had three of us carrying the canoe!). I earned this certificate to prove I was a voyageur.
Another year Lynda Byrd Johnson went canoeing in some of the same places we'd been. To make it nicer for her, they smoothed out the portages and fixed up the campsites. That empowered us — we'd done it the hard way.
Finally, Bill Hafeman, one of the first whites to build birch bark canoes in the Ojibwe fashion, lived on the Bigfork River, a few miles from where I grew up in. His canoes are works of art. Among the places in Minnesota where they can be found: 36-foot Montreal canoes at the Minnesota Historical Society Museum in St. Paul and at the Visitor Center in Ely, a 25-foot North canoe at Grand Portage National Historical Site, and a 12-foot canoe at Itasca Historical Society in Grand Rapids. Lynda Byrd's mother Lady Bird was presented with one.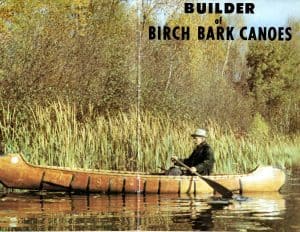 Turns out Bill Hafeman was the great uncle of a classmate of mine, Bob Davis. The business, Hafeman Boat Works, continues its artistry under Ray Boessel Jr., whose wife is Hafeman's granddaughter.
And canoes are just plain fun. Too bad I swamped ours twice on the Sauk River — which makes my favorite paddler hesitant to go with me again.