The writings that have survived from fur traders are full of inventive spellings — like Lac Ouinipique or Ouisconstan. Can you guess where they are?
There weren't many literate people in the fur trade. Most voyageurs signed their contracts with an X. The clerks' spellings were iffy, because the language hadn't crystallized into a single spelling for a word.*
Add to that, they heard unique Ojibwe and Cree words and tried to imagine ways to spell them so others could read and understand.
Peter Pond (about 1740-1807) was an American-born fur trader, a founding member of the North West Company (rivals of the Hudson's Bay Company) an explorer and a cartographer. He was a member of the prestigious Beaver Club, the bourgeois of the fur trade. His narrative is in "Five Fur Traders of the Northwest" (Minnesota Historical Society, 1965). But it takes ingenuity and persistence to understand what he is writing about.
So today's post is pronunciation practice, taken from Peter Pond's writing—the use of capital letters is his. (HINT: Say the words aloud. They're all English words or places.)
Places: (Check the map below for some answers — and appreciate the mapping skills of the 18th century.)

Masseppay (or Massasippey)
Miseeurea (or Miseiarey)
Ontarey
Erey
Michlamacneck
La shean (Lachine is the Canadian village from which all the canoes left.)
Amareca
Cannaday
Ouisconstan
villeg
cuntray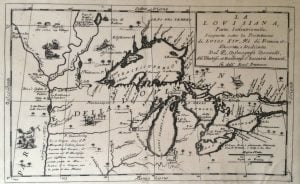 People:
voigeer
InGashaes
Ochipway
Mishenerae
preast
inHabetans
aquantans
parans (or pairans)
fammaley
And other words: (interesting use of capitals in the last two)
rigmintal coate
exseadingly
mutanise
cumplyed
Saremoney
canues
burch
seader
Artickels
Entelagent
aSosheat
aStableshad
Two more from other sources:
Paquégamant or Paquayaman
Lac Ouinipique or Lac Winnipick
* Mark Twain once said, "It's a poor man who can only spell a word one way."
Pix: PPond's map, book 5 Fur Traders, map with misspellings