The statue in Pine City, Minnesota, shows Ojibwe heritage, with straight hair and no beard, deep-set eyes, strong jaw and lack of beard. He's wearing a knitted cap with a tassel, a simple voyageur shirt, sashed, and his trousers are tied with double cords at the knee (like my costume when I present programs). A voyageur's tuque and sash complete his apparel. His moccasins have an amazing woodland flower pattern carved in, like they were beaded moccasins. His hair is almost to his shoulders and is blunt-cut.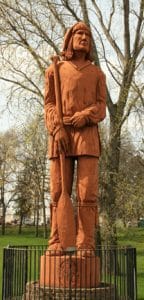 His narrow-bladed paddle that reaches past his shoulders suggests he was a steersmen, the avant or gouvernail, and a position of great responsibility.
His mood is introspective — as if measuring the cost of the fur trade against his tribe and band — what will the world bring to them and how will they survive? He looks out at the river and community beyond, having led traders there. Maybe he's wondering how now to best help his tribe. He stands on a base with the North West Company logo and motto "Perseverance."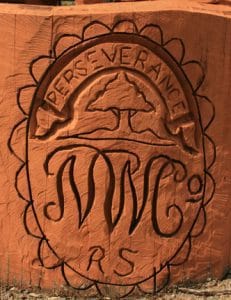 This statue is another giant, at 35 feet, created in 1992 by Dennis Roghair, a local chainsaw sculptor, who carved it from a California redwood about 7 feet in diameter. It's in a community park overlooking the Snake River.
To get the full experience, stop by the North West Company Fur Post, re-created at the site of the original 1804 trading post and now a Minnesota State Historical site, just a few miles west.
Hope you've enjoyed this parade of Minnesota's roadside voyageurs. There's another group in Mattawa, Ottawa Canada, but they'll have to wait for another time.