Can people, like, see voyageurs still? Where would you go to learn how to do the work they did, like canoeing, or outdoor skills? Quinn, 11
Yup, there are lots of ways to see and learn how to be a voyageur. It depends on what you want to do, where you live and things like your age or amount of money or time you can spend.
First. Look on my website under the EVENTS section The most current events are listed at the top.
Then go to RESOURCES. Under the "DO" subsection are camps or places to learn separate skills, if you have a week or two.
Under "VISIT" I list some historic sites and museums in the Midwest U.S., with links to their websites. Besides their regular displays, the historic sites and museums host special weekends with re-enactors, period arts, crafts and music (the EVENTS you already checked out). In a day or even just an afternoon, families can wander around, watch and interact with the costumed re-enactors. (Hint: they like it best when you have questions!).
What happens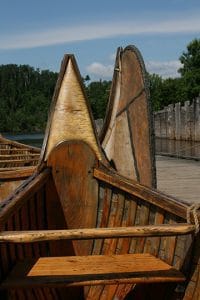 at those weekends? Lots! Each location has a schedule of hands-on activities and games for kids and adults. Try your hand at starting a fire with only a flint. Play a game of cat and mouse.
Visit the market areas to see trade goods that voyageurs brought or wanted — beads, fabrics, tools, baskets, traditional handicrafts, furs and much more. Trade was the main event in the 1700-1800s (but now you'll need to bring money).
You can paddle in a Montreal canoe at Fort William — $5 will get you a ride in a big canoe around an island. At the Canadian Canoe Museum, you could bring your own canoe to help find out how many canoes will fill the lock.
Do muzzle loaders and black powder grab your interest? Many sites have exhibitors and contests.
Or perhaps you wouldn't mind seeing how a beaver is skinned (go to Fort Union Rendezvous).
Because the Rendezvous didn't happen without Native Americans, the weekend at Grand Portage is a double feature, with a powwow. Or join the lacrosse game.
At the Festival of the Voyageur, you can tour an Ojibwe lodge and hoist a traditional fur pack as well as visiting the fur post.
The North American Voyageur Council's Fall Gathering has short classes—about beads, following a blanket from its manufacture in England to its Ojibwe owner, how to sew a costume, primitive cooking, traditional handicrafts, as examples.
But what if you want to go a different time or to another place? Dave Hart has created the Crazy Crow Trading Post website which lists of hundreds of events, such as powwows, mountain man rendezvous and re-enacted events. ,
Now — where do you start?