How big was the canoe? How many voyageurs paddled it? (Christian, grade 4)
There were different sizes of canoes. The first one that André paddled, from Montreal to Grand Portage, was the biggest. It was a Montreal canoe (also called the canot de maître or master's canoe).
This huge freight canoe was about 36 feet long and 6 feet wide. (To help you understand the size, a tennis court is about 36 feet wide.) It would hold 8 to 12 paddlers and 3 tons of trade goods and food. Made of birchbark and cedar slats, which were light and strong, it weighed about 600 pounds. It was built to carry about 60-65 bales or pièces of trade goods as well as provisions, canoe supplies and blankets and personal packs of the voyageurs. Over a portage, four men carried a Montreal canoe. Antoine's brigade had about five Montreal canoes, each propelled by 8 or 10 paddlers.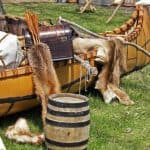 When Antoine, Emile, Pretty Mouse and André left Grand Portage, they used a North canoe (canot du nord) purchased from Native Americans in Grand Portage who were skilled canoe builders.
A North canoe was shorter — about 25 feet long, 4 feet wide — and carried 25-30 pièces, or pieces of cargo, about half of what a Montreal canoe carried. Weighing about 300 pounds, only 4 to 6 men were needed to paddle and 2 to carry it across a portage.
The express canoe, or canot léger, was about 15 feet long. It was meant carry people, reports and news—no cargo—so they could travel fast.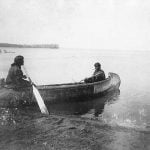 Canoes used by Native Americans were smaller than North canoes — they needed to travel shallower rivers and didn't haul big loads over long distances.
Nowadays a popular canoe length is 17 feet.
Nikki