Could anyone become a voyageur in the 1700s or 1800s? (Dylan, age 15)
Nope. If you were tall — over 5 feet 6 inches tall, your legs wouldn't fit in the canoe. So that was one requirement.
Voyageurs had to be strong, willing to work long hours and live apart from their families for up to half a year — or several years, if they planned to live over the winter in the hinterlands of the continent instead of returning to Montreal in the early fall.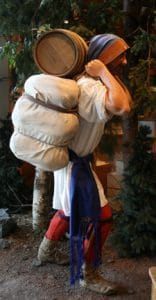 They had to be skilled paddlers but, surprisingly, most couldn't swim. When a youth had developed his arm and back strength, he could become a voyageur, about age 16, but some started as early as age 11. Voyageurs had to carry two 90-pound bundles of fur or trade goods over portages (and some carried more — they liked proving themselves).
This job was at the lowest level in the fur trade.  There were few other career options — farmer (if your family had land), blacksmith, wheelwright or carpenter (if your father had those skills) or storekeeper. Being a voyageur was often a family tradition.
Most voyageurs were illiterate — they signed their contracts with an "X." But since they sang to keep the rhythm and speed, they knew many songs which had many verses.
Nikki