Synopsis and Comments
Steeped in the history of the French-Canadian voyageur journeys in the early 1800s in North America, Waters Like the Sky is the story of a well-educated teen boy who despises his fancy schooling and longs for a more adventurous life. André's fate changes when a letter with a royal seal arrives. He discovers he has French noble blood. He is part of a family in France, who are not the loving parents he has ever known. He has an older brother he's never known who disappeared years ago into vast wilds of North America with a canoe brigade—and an enemy that wants them both dead in order to seize their wealth and estates in France.
Determined to locate his brother and set things right, André sets out to search for his Denis the only open to him—becoming a voyageur.  Unaccustomed to the hard voyageur life, André uses his only advantage—his education—to earn a place in the lead canoe whose destination is the territory where his brother may be. He fights to earn the respect of his fellow voyageurs and gains many life lessons on his life-or-death quest to track down his brother. Will he be able to reach Denis before the evil one the natives call the windigo finds him first?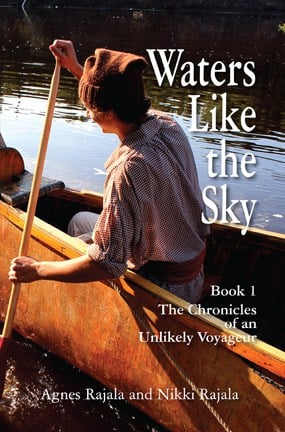 Here's how to get Waters Like the Sky:
1. Use this PayPal button.
Nikki Rajala
P.O. Box 372
Rockville, MN 56369
3. Special pricing on classroom sets of Waters Like the  Sky can be arranged by contacting North Star Press of St. Cloud, Minnesota, at 320-558-9062 or clicking   Waters Like the Sky.
Thanks to Bob Zyskowski for this wonderful review: Bobz Book Review of "Waters Like the Sky"
"This book is delightful. It immediately took me back to the heart of John's work as a French voyageur. You truly caught the essence and authenticity of the voyageurs' life style. I loved the French phrases throughout which added to the truism of the story. Your narrative was so well-written and the story kept you guessing and hoping for a positive outcome." ~ Jeanne Rivard Parrish (John Rivard, Jeanne's former husband, was a historian who presented unique programs recalling the lives of French-Canadian voyageurs.)
"This novel —'Waters Like the Sky'— is is a wonderful story of outdoor adventure, well-researched and well-written. The story is an exciting journey, wrapped in the mystique of the early fur trade and filled with positive lessons for life." ~ Gene Stark, author of "Tracks in the Mud:Trailing the Last Great Fur Boom," fur trapper
"What a delightful surprise to read this book! The title caught my attention since I remember that Minnesota means "land of sky-blue waters." As a former English teacher I enjoy the literary style, the figures of speech, the vivid descriptions. What knowledge you two accumulated  regarding every detail of the life of the voyageur, of the flora and fauna of the areas visited! What extensive research you must have done to make it so historically accurate! You surely have done well by your French-Canadian ancestors. I'm impressed by the amount of French in the text. The story is fascinating —  I'm about half-way through." ~ Ruth Matheny, Florida
"I got the book and enjoyed reading it immensely. I'd like to know what happens when Denis gets back to Paris. Will his enemies continue to try to eliminate him? Does he have friends at court? Will Andre join him? How do the long lost brothers get along?Do you have plans for another, or perhaps a series? Have you any thoughts about a tv series on a family oriented station? I think it would be perfect. Keep me on your mailing list for the 'Further Adventures…' " ~ Bob H.
"Your book was a page-turning adventure, in a place unknown to many. What happens next? I'm waiting for the next book! Congratulations on a good read." ~ Lillian
.