Events
EVENTS
2017 Rendezvous dates in the Midwest:
May 25-29    Cannon River Rendezvous (Stanton, Minnesota)
June 9           Voyageur Canoe Paddle Day (Canadian Canoe Museum, Peterborough, Ontario, Canada)
June 15-18    Fort Union Trading Post Rendezvous (near Williston, North Dakota)
June 24         National Canoe Day–Lock n'Paddle (Canadian Canoe Museum, Peterborough, Ontario, Canada)
July 7-10       Fur Trade Days (Museum of the Fur Trade, Chadron, Nebraska)
July 20-24    Fur Trade Rendezvous (Forts Folle Avoine, Danbury, Wisconsin)
August 4-6    White Oak Rendezvous & History Festival (White Oak Society Fur Post, Deer River, Minnesota)
August 11-13    Grand Portage Rendezvous Days and Powwow (Grand Portage National Monument, Minnesota)
August 19-20  Battle of Fort William (Fort William Historical Park, Thunder Bay Ontario, Canada)
September 16-17   Festival of the Voyageur (North West Company Fur Post, Pine City, Minnesota)
Nov. 3-5         North American Voyageur Council Fall Gathering (Winnipeg, Manitoba, Canada)
PAST PRESENTATIONS
The Blue and the Gold Dinner, Cub Scout Pack 20, Waite Park, Minnesota, March 5
Elk River Public Library, Elk River, July 7
Waite Park Public Library, Waite Park, July 16
Becker Public Library, Becker, June 16
Howard Lake Public Library, Howard Lake, June 23
Northeastern Minnesota Book Awards, Duluth, May 21: with Kristin Eggerling, author of "Breath of Wilderness: The Life of Sigurd Olson," who was nominated in the children's category. "Waters Like the Sky" was nominated in the adult fiction category. We are both Augsburg grads!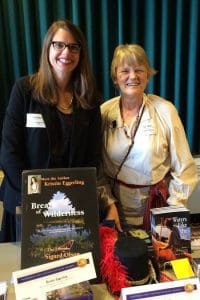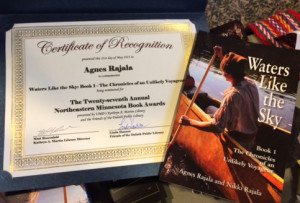 L.I.F.E. program, Rochester Community and Technical College, Rochester,  April 24  Comments from participant evaluations:
Great presentation, loved PowerPoint and all the hands-on items.
Good storyteller, fascinating material.
Instructor has profound understanding of [the voyageur's] life.
Outstanding management of discussion questions and comments. Depth of knowledge impressive.
So much fun, great concept to have a voyage. So many great details and content. Good instructor. Learned a lot.
Very interesting look at a specific life and its parameters.
Delta Kappa Gamma convention, Bemidji, April 18; "Waters Like the Sky" received their Jeannette Fair Book Award!  
P.O.E.T.S, St. Cloud, March 27
Whitney Senior Center, St. Cloud, March 3
Stearns History Museum, St. Cloud, Breakfast Club Feb. 11
Rocori Senior Center, Cold Spring, Jan 23
Upsala Public School, Library, Jan 16
French Canadian Historical Society, Sartell, Jan 10
Richmond Public Library, Dec. 8
White Rabbit Cafe (Cold Spring Library), Dec. 2
Sartell Senior Connection, Dec 4
Village Book Store, Grand Rapids, Oct. 25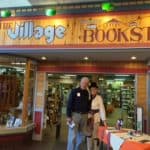 Barnes & Noble, St. Cloud, Oct. 18
Itasca County Historical Society, Grand Rapids, Oct. 16
Delta Kappa Gamma meeting, St. Cloud Oct. 7
Bethlehem Lutheran Church carnival, Oct. 5
ITEM/MEMO Conference (school media), St. Cloud Oct. 3
Whitney Senior Center, St. Cloud, Sept. 3
Millstream Arts Fest, St. Joseph, Sept. 28