Bio
The Chronicles of an Unlikely Voyageur: Waters Like the Sky is the combined work of mother and daughter — Agnes Peloquin Rajala and Nikki Rajala — who are Minnesota natives,  writers and appreciators of early American and Canadian history. Nikki grew up watching her mother create literary works based on the rich heritage of their family's ancestors. Waters Like the Sky  pays homage to being direct descendants of French-Canadian voyageurs, fur traders and explorers.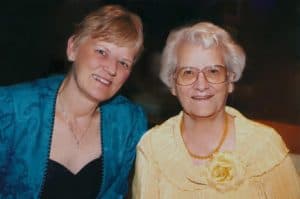 Waters Like the Sky is Agnes Peloquin Rajala's fourth published book.
She wrote A Tale for Saint Urho's Tay and Of Finnish Ways under the name Aini Rajanen and Sweden: A Good Life for All as Kari Olsson. (All three books were published by Dillon Press of Minneapolis, Minnesota, and are out of print.)
Among her many interests, Agnes enjoyed writing — her Christmas letters were filled with clever puns. From her life and genealogy research, she wrote 11 family histories, the most recent about her career as a teacher in rural one-room schools, as well as four cookbooks. She died October 14, 2013.
Waters Like the Sky is Nikki Rajala's first fiction novel. Her nonfiction book,
Some Like It Hot: The Sauna, Its Lore and Stories, published by North Star Press of St. Cloud, Minnesota, in 2000, is a reflection of her Finnish heritage and love of the family sauna. She retired from teaching English as a second language and now works as a copy editor.
If she's not writing, she cooks for friends, plays with origami paper and watercolors, digs in her flower garden, adds books to her Little Free Library, reads a ton and does a crossword puzzle or two. She lives in Rockville, Minnesota, with her husband (and best friend) Bill Vossler, also a freelance writer.